Designing
All the conceptual work of designing and planning was done in Sketch Up. Sketch Up is a great platform for this endeavor, because you have to literally build the actual entity in virtual 3D space. Pieces have to fit together and work logically. You can view your work from all angles and in isometric if necessary. The bottom line is, if it works on the computer, it will work in actuality. Just cut your pieces to the required dimensions and assemble.
The design of the bench work was a simple "L", with a triangular brace to hold the table segments square. Both "legs" of the L are 37.5 inches from where the L brace attaches to the respective ends. Transformers and other electrical components will be placed into the suspended shelf box on the right-hand L.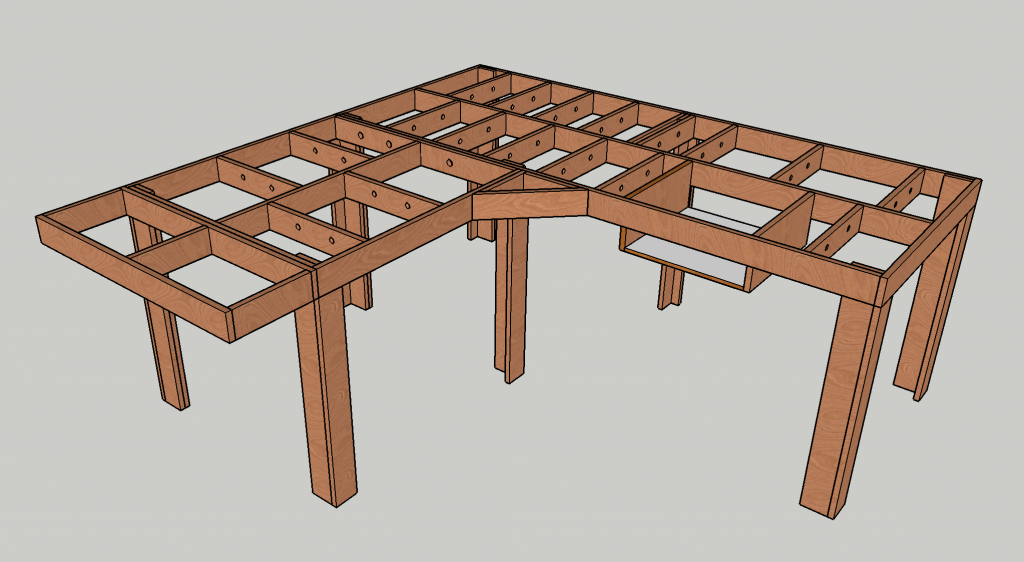 Assembly
The bench work was made from 1 x 3 common pine. All legs were constructed from three boards, two of which were glued together, with the third being mounted at a 90 degree angle, sometimes on center, sometimes on the edge. This created a self-standing leg which also possessed shoulders to hold the frame work of the top.
Cross members were drilled for wiring. Wires were strung before the top was put on. As little glue as possible was used during assembly. Most pieces are held together by 1.5″ to 2″ wall board screws. Legs were attached using 2.5″ x .25″ bolts, with washers and nuts. Easy disassembly was the main goal.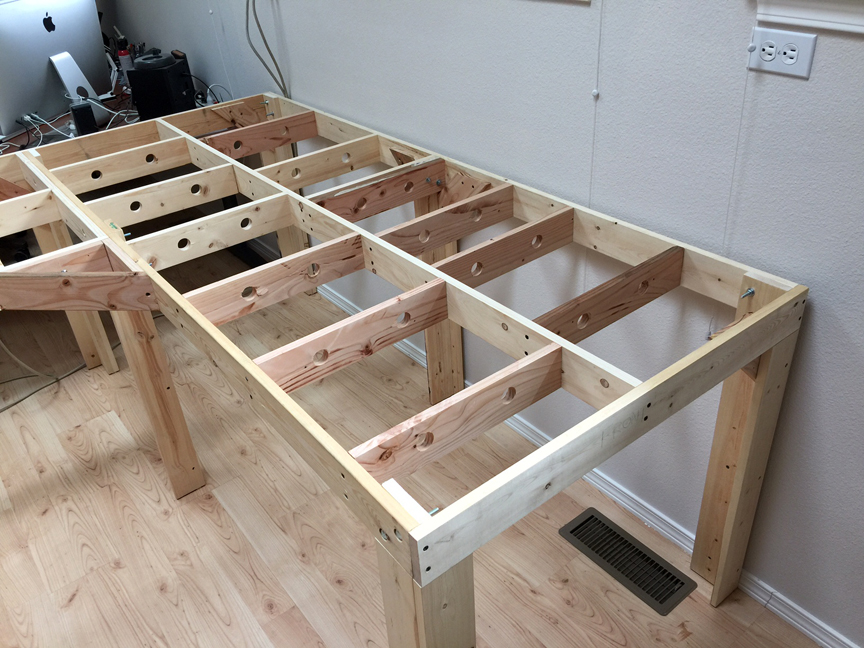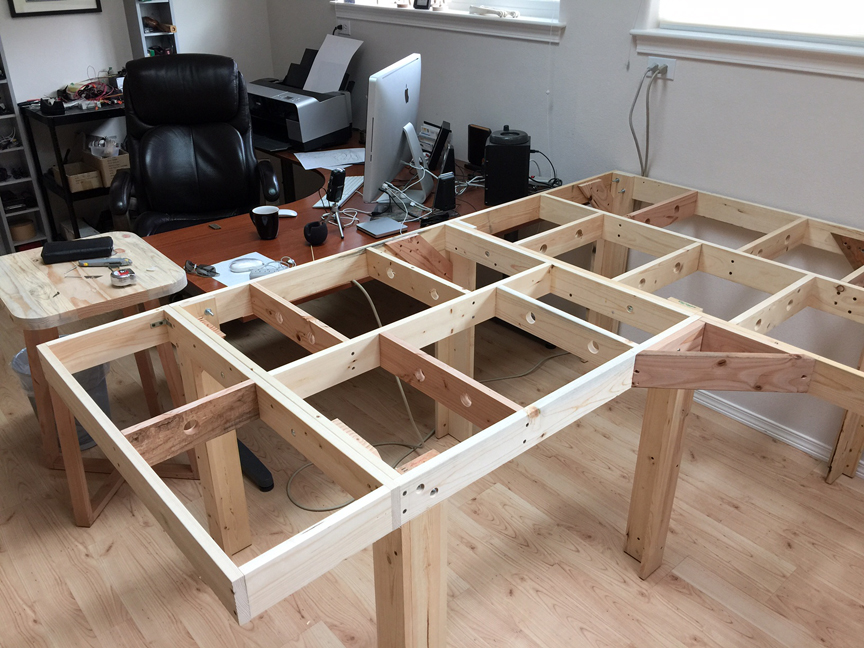 The structure is very sturdy, while being light and easy to move. Felt was used on the bottom of the legs to help the entire structure to glide across the floor. Cross members were perforated on a drill press before assembly.
The triangle piece does double duty as a structural piece to help keep the two main tables square to each other, adding stability, while also serving as a mounting surface for the XpressNet adapter where the cabs will be plugged in.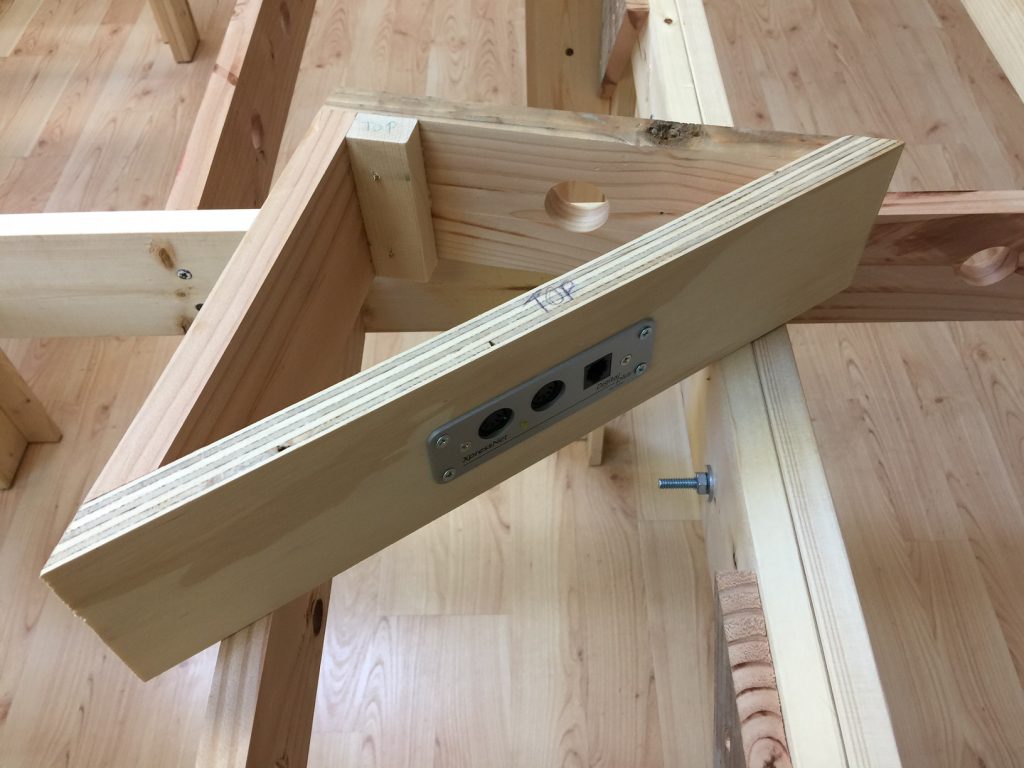 After all of the wiring and DCC equipment was installed, a 3/4″ plywood surface was screwed into place. Again, no glue was used as I want the entire structure easily disassembled when it becomes necessary.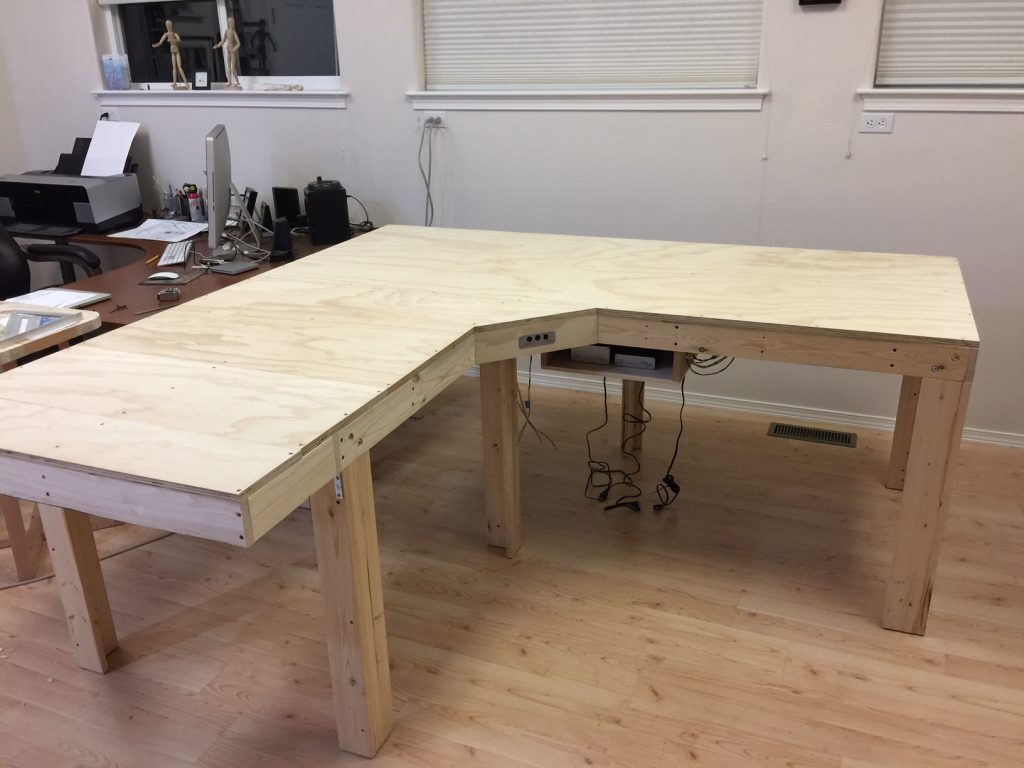 On the next post I will cover the installation of the electronics and provide a wiring diagram of the layout. Thanks for stopping by.