Roadwork and laying rail on the GNO Northwestern has been fairly straight forward. I'm almost done as a matter fact. The cork was by Midwest Products. There a noticeable difference in the quality of the cork, from the case I bought years ago. This newer stuff was much more "crumbly". Don't know if that is good or bad, just different. Push pins held the cork in place while the carpenter's wood glue dried.
After the roadbed was set, I sliced through at the seams of the layout to help in possible disassembly later.
The switches are by Peco (SL395/396). Peco switch motors (PL10E) with extended pins were used, which ended up being the perfect length to reach through 3/4″ plywood and a layer of n scale cork roadbed. The switch motors were affixed to plastic mounting plates (PL9) and wired up the motors with wiring looms from Peco (PL34).
After locating where the switch was to go, a 3/8″ hole was drilled down through the cork and plywood. I then inverted the drill bit and used it to locate the orientation of the mounting plated under the layout. You always need to make sure the plates are at 90 degrees to the track. A small homemade wood template aided in this process. Extreme care is need to locate where to drill. I eventually came up with a system that worked great for me.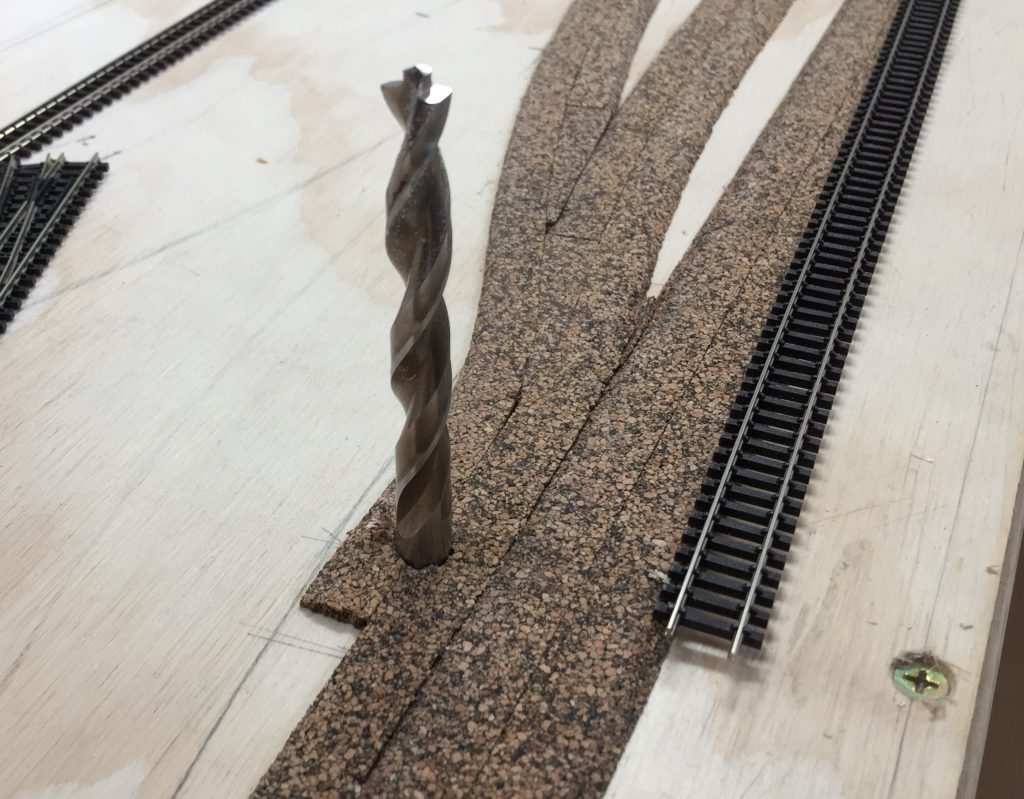 Switches were then glued to the cork roadbed. Connectors were installed onto the switches, then flex was attached and glued down. For a while I was soldering the track at the connectors, but later learned that the connectors were designed for "no soldering required" operation. Indeed they are.
Currently I am in the process of bullet proofing the track work, making sure all the switch motors are workings and no shorts are occurring anywhere on the layout. Trains are running. I'm getting close to starting the scenery. Big fun!