Hi Everyone. Welcome back. Since starting over on the GNO Northwestern I've made some good progress. The new bench work is complete and about 75% of the roadbed and track have been laid. Here is a quick pictorial tour of the layout.
Two bridges are in and I am working on a tunnel before completing the loop of the layout. The larger bridge is the Atlas 2570 N Scale Code 80 Through Truss Bridge Kit. It went together easy, but watch out for the microscopic screws provided. I glued them to my screwdriver tip for installation.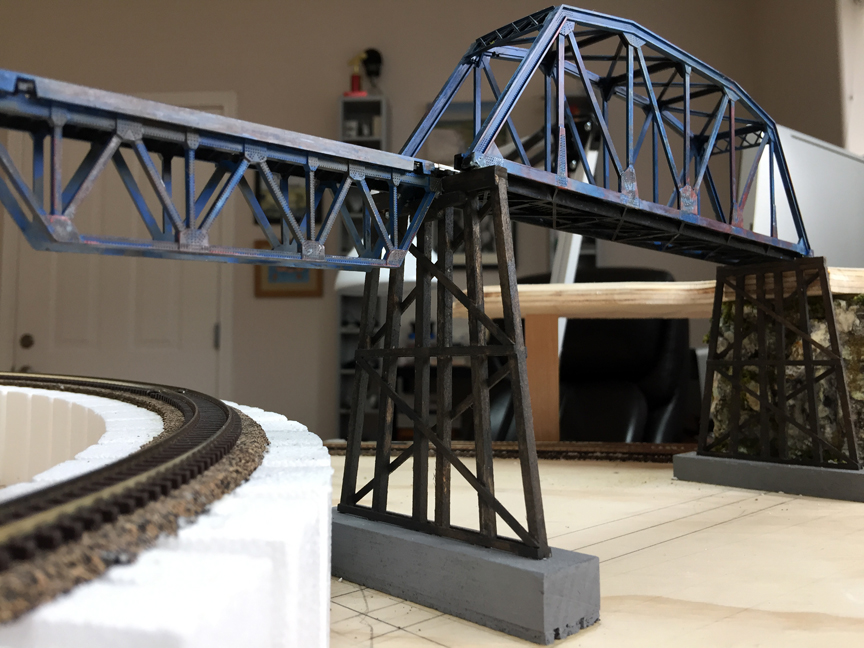 I love how the bridge came out. I was going for a worn and rusted blue color. The trestles at either end are home made using real drawings found online. The gray painted wooden blocks simulate the footings of the bridge.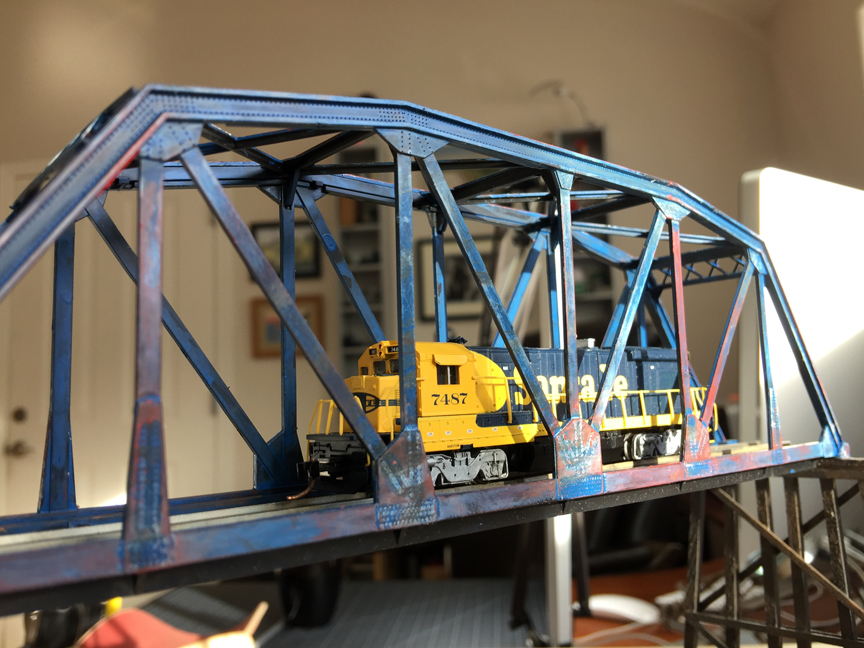 Once crossing over there is a spiral down to the main level of 3%. It's steep, but due to limited space I had to use it. I think I may put a small body of water between the risers in the space you see there. Inside the loop will be a platform for a spur with industry, probably lumber.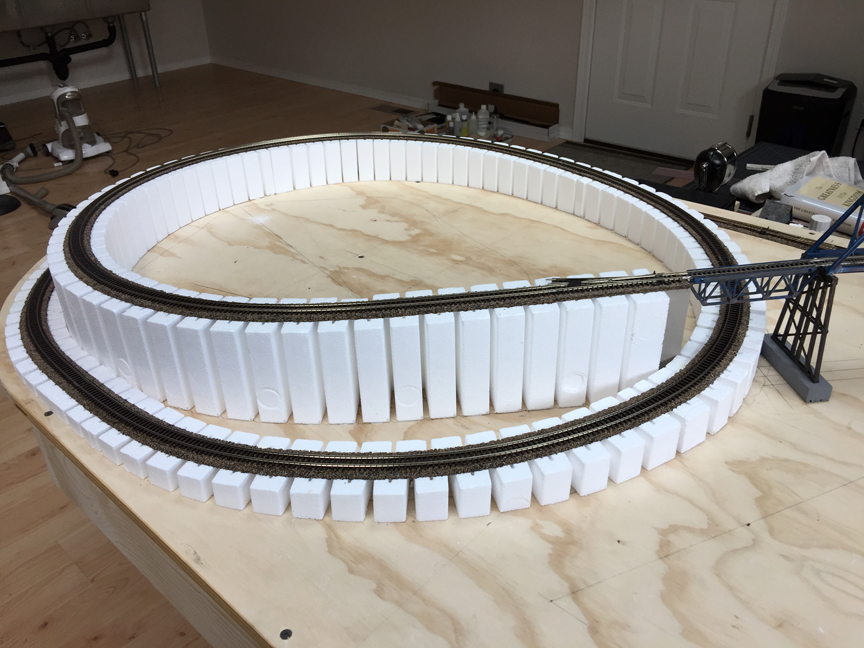 Once down to the lower level, the rails will pass through a double wide portal, heading back into the main yard. I've started ballasting the rails and the tunnel walls will be lined with "rock" which was poured into tin foil molds using Lightweight Hydrocal casting plaster from Woodland Scenics.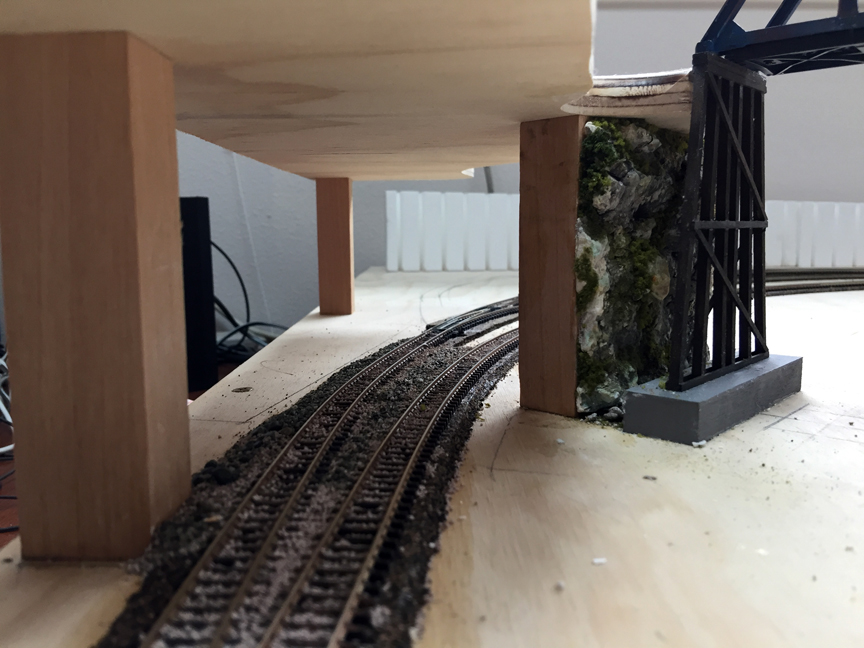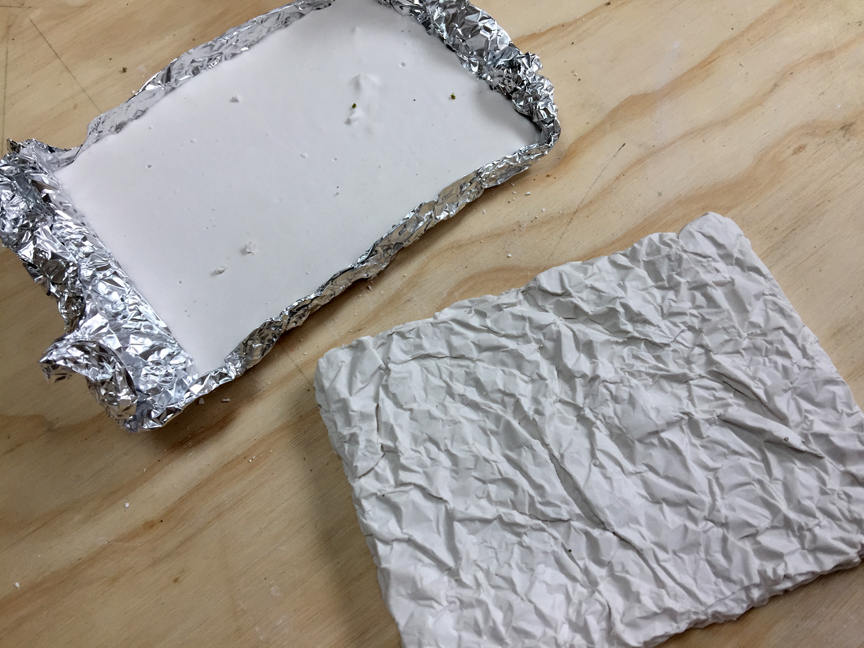 I'm not sure I actually like the look of the tunnel walls. They look like exactly what they were made from, wrinkled tin foil instead of rock. After staining, they might suffice for tunnel linings. I'll be using rock molds for the rocks that are exposed on the layout.
From there we pass through the yard on our way to the far west end of the layout. Some PECO switch motors still need installation.
No one is taking responsibility for the industrial spill at the turntable construction area. Rest assured when I find out who is responsible, heads will roll. We're still investigating.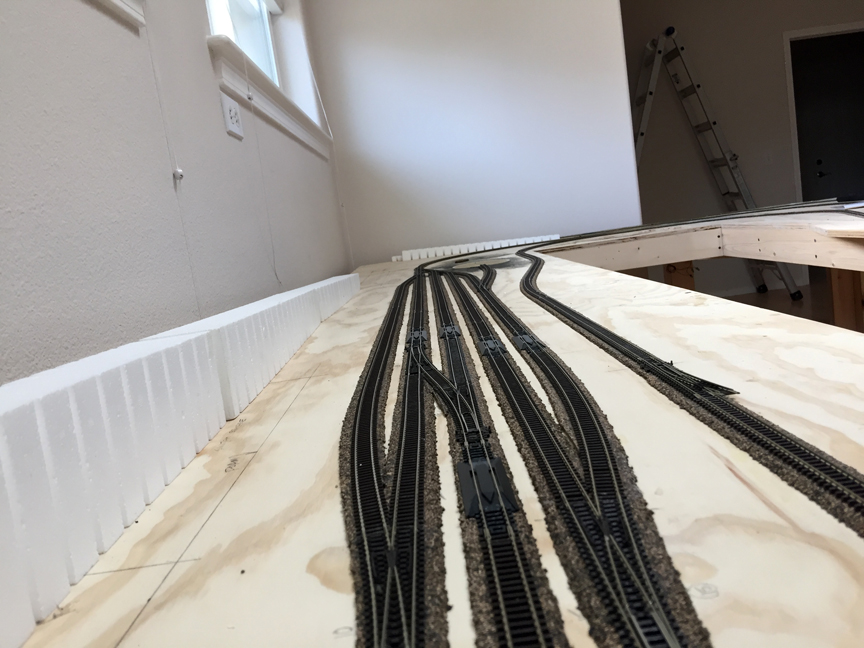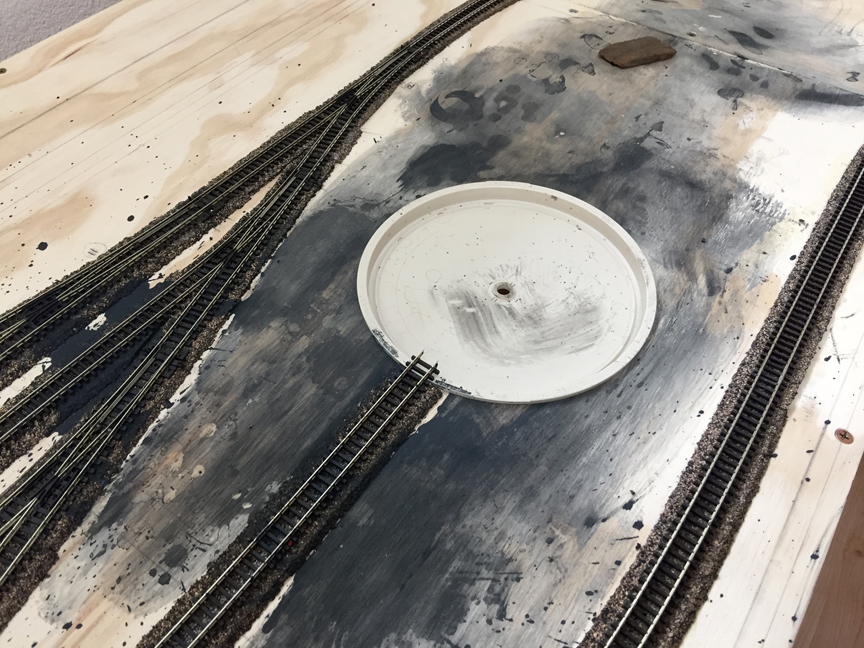 Past the turntable we sweep south past a lake. The bottom will be suspended from wooden L-brackets and painted dark blue/green in the center, fading up to light tan near the shore. Plaster cloth will create the slope from the shore to the bottom. Woodland Scenics Water Works will be used to fill the lake. The shore line will feature boulders, rock, and plant growth.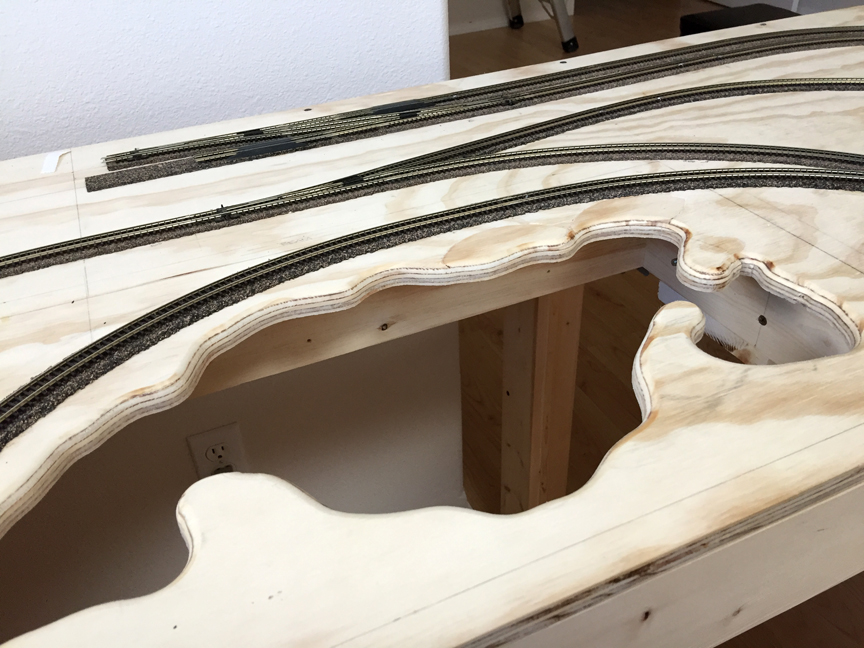 Finally, we end up at the other major industrial area. The main industry at this end will be a large brewery, modeled after the large Miller brewery in Azusa, CA.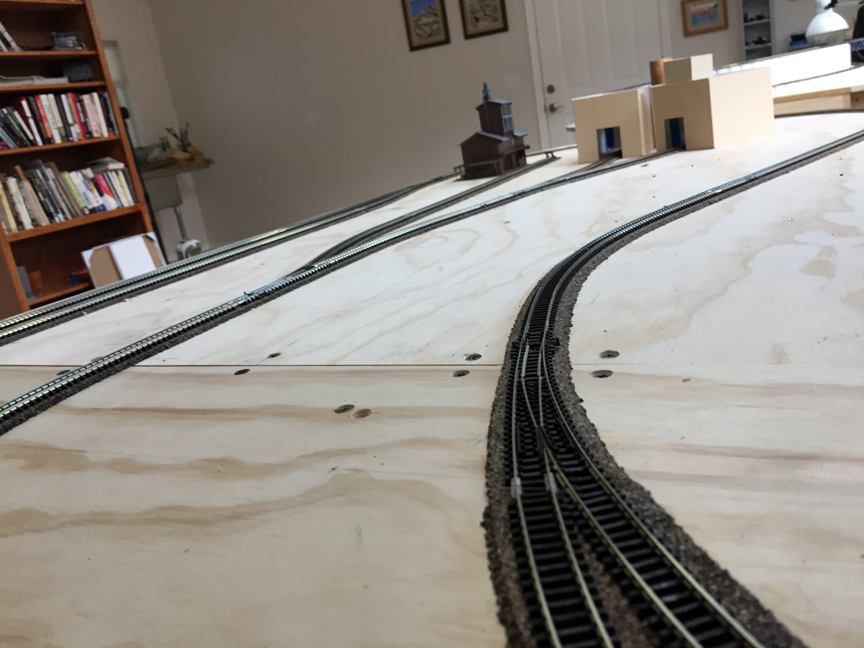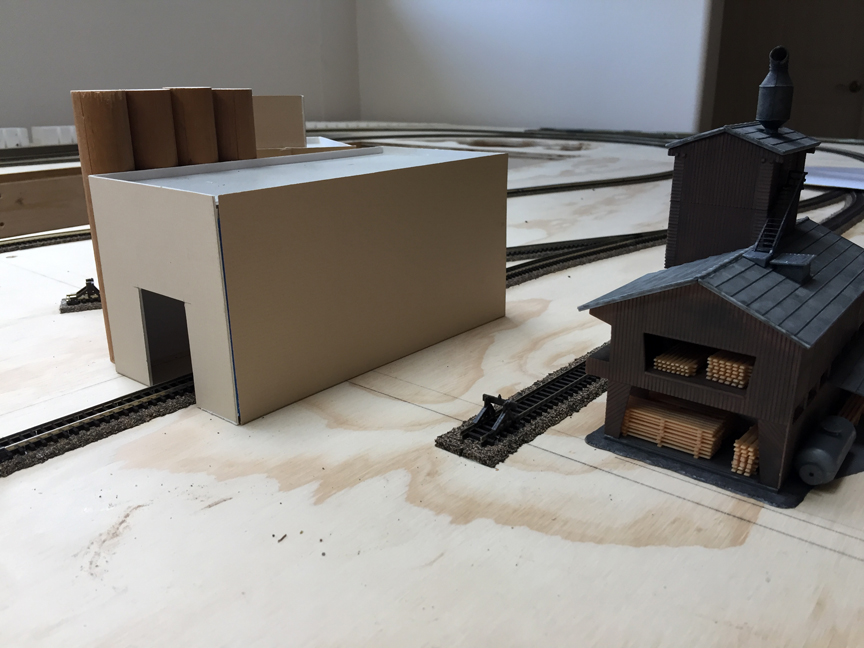 The saw mill you see in the photo above will probably be moved to another location, just not sure where yet. I've completed some the building projects; those will be featured in a separate post.
Anyway, I'm having fun. Thanks for visiting. Be blessed. Take care.