My hope is built on nothing less than Jesus blood and righteousness.
I dare not trust the sweetest frame, but wholly lean on Jesus name.
On Christ the solid rock I stand; all other ground is sinking sand.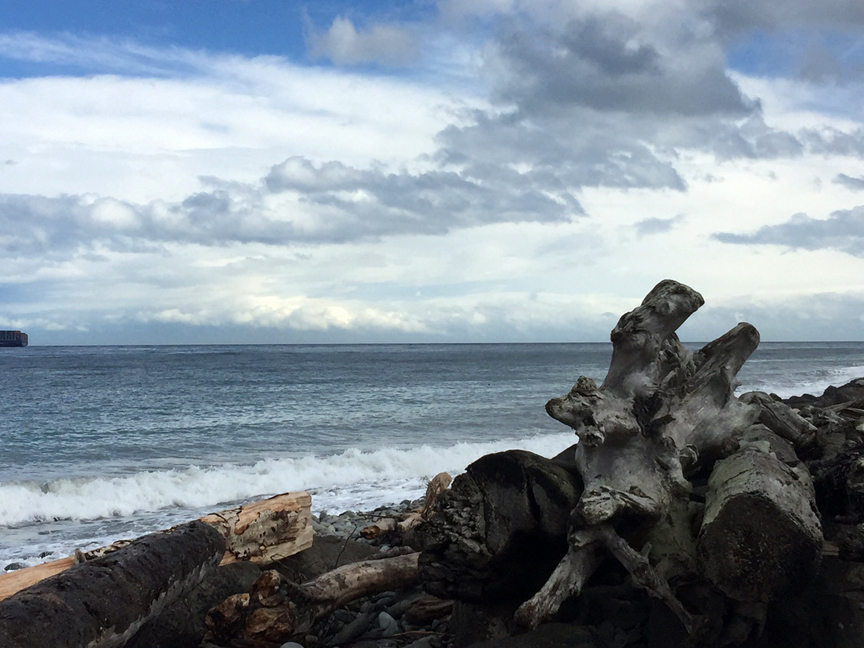 Recently, my wife and I went out to a beautiful place here in Washington called Edis Hook. It's a narrow strip of sand and rock that extends miles out into the ocean. Out there the sky is huge and beautiful. Sunsets are spectacular. The drift wood is amazing. In order to get to the actual water, you must traverse a wall of huge jagged boulders. Most are wet and slippery; some are not as immovable as they seem. Some, on the other hand, are solid and perfect for the journey to the other side.
Christ is like one those perfect, solid rocks – always there, always secure – guaranteed to keep your foot from slipping. When I meditate on what Christ has done for me, His steadfastness is often the trait that amazes me the most. He lived His entire life in complete faithfulness to His Father, without faltering. It's the one trait I wish I could muster to the extent that He did.
I can totally relate to the Apostle Paul when he said in Romans 7:23-25:
…but I see a different law in the members of my body, waging war against the law of my mind and making me a prisoner of the law of sin which is in my members. Wretched man that I am! Who will set me free from the body of this death? Thanks be to God through Jesus Christ our Lord! So then, on the one hand I myself with my mind am serving the law of God, but on the other, with my flesh the law of sin.
It's often a depressing struggle as I try to be "good", knowing that will I never achieve that goal, doing dumb stuff even when I don't want to. Sometimes when I think of my life, I wonder how God can actually still love me as much as He says He does. Amazing!
Thank God all I have to do is rely on the completed work of the Rock, Jesus Christ! By trusting that His death and resurrection have sufficed to pay in full the wrath due me, I gain power to rely on Him. I may not ever be as good as I hope for in this life, but at least the Father sees me dressed in the righteousness of my Savior. Whew!
If you pray sometimes, send one up for me; that I can increasingly grow more faithful and run a good race all the way to the end. Truly, I want to hear Him say, "Well done, good and faithful servant. Welcome into the joy of your Master."
Now that would be Good News Only.